Frequently Asked Questions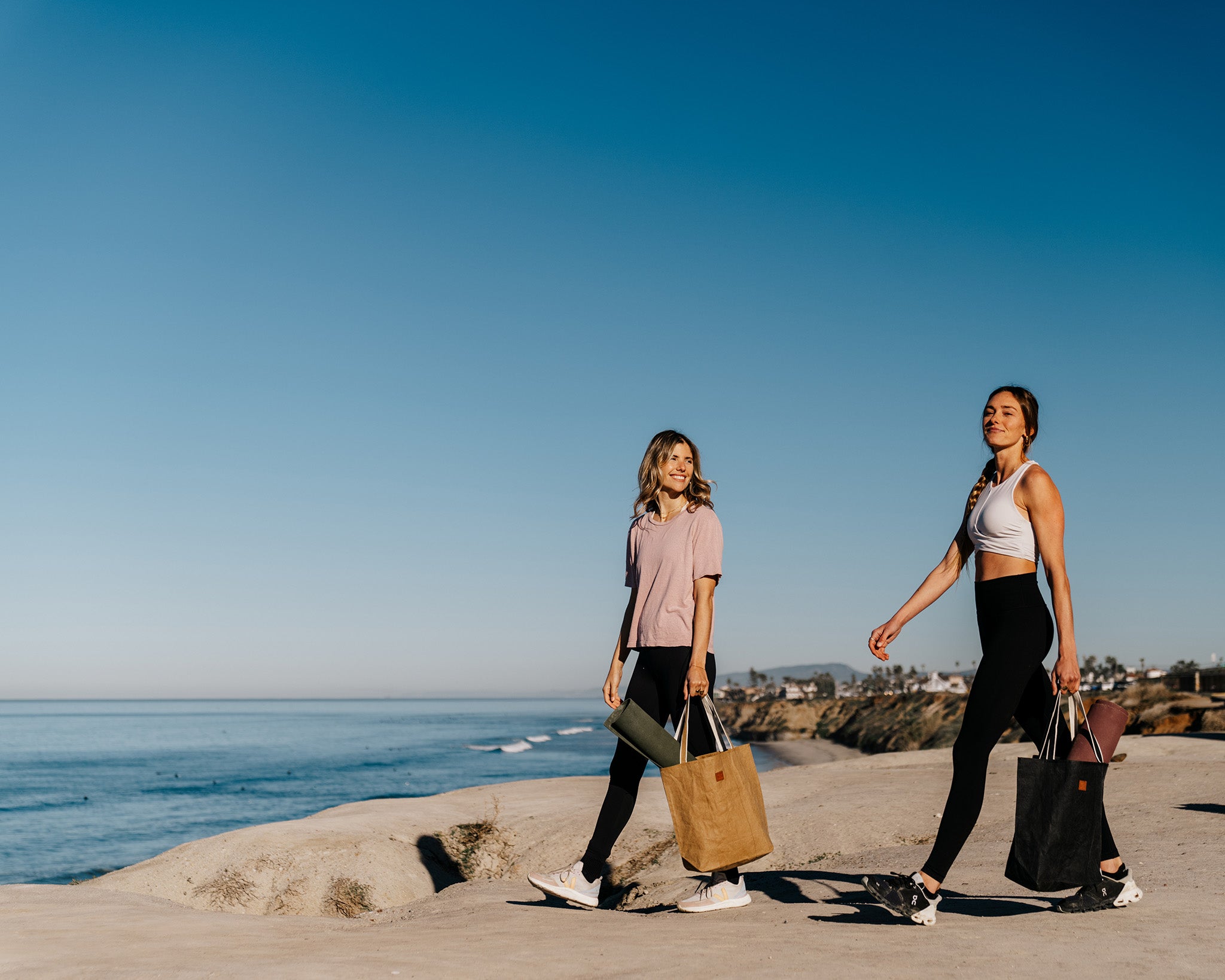 Don't see your question below?
Contact us using the link below and our team will respond as quickly as we can!
CONTACT US
General
How are Out of the Woods® bags and products sustainable?

Out of the Woods® products feature Supernatural Paper®, sourced from responsibly managed forests. Because trees are a renewable resource, it has a lower carbon footprint compared to many other materials used for bags, particularly those derived from petroleum-based products. Most of our products are also FSC®-certified (FSC® C153080), which promotes the environmentally sound, socially beneficial and economically prosperous management of the world's forests.
How many single-use bags can be diverted from landfills and waterways by using a reusable or washable bag?

Using reusable bags and washable bags, whether for shopping or common daily carrying, can save hundreds of single-use bags a year, possibly over 500 according to some studies. A single person would remove more than 22,000 plastic bags from the environment if they used reusable bags over their lifetime.
What is Supernatural Paper®, the material used to make Out of the Woods® bags?

Supernatural Paper® is a material made with tree cellulose from responsibly and sustainably managed forests. And because cellulose is a renewable resource, Supernatural Paper® has an improved environmental profile compared to petroleum-based materials. This unique material is both washable and water repellent, which means you can safely clean the exterior or even get caught in the rain without worrying about damaging your bag. Supernatural Paper® is also 100% animal-free but has the same look and performance of leather.
Why does Out of the Woods® use Supernatural Paper® products?

Supernatural Paper® has a unique look of well-worn leather while being animal-free and has a lower carbon footprint than other oil or petroleum-based products. It's also strong and durable and since it's washable, can have greater use and longevity in many cases.
Where does Out of the Woods get its trees, wood and paper materials?

Out of the Woods Supernatural Paper® gets its start in responsibly managed forests in Europe where the tree cellulose is sourced and then converted to pulp and transformed into Supernatural Paper®.
How are Out of the Woods® products produced?

Our production facility, featuring an open, airy design in natural green space, is located just outside of Ho Chi Minh in Vietnam where we have been operating for well over 10 years. We operate and adhere to the standards of one of the world's leading ethical trade service providers, Sedex. The facility where our products are produced is regularly audited for labor standards, health & safety, the environment, and business ethics under SMETA (Sedex Members Ethical Trade Audit Report). Learn more about our factory here.
Are Out of the Woods® bags and products soaked in toxic flame retardant chemicals or PVCs?
Are Out of the Woods® bags developed by hand?

Sewing of Out of the Woods® bags and products is done by hand. While the base material for Supernatural Paper® itself is manufactured by machinery, much like a paper press, the final construction of our bags are done in Vietnam.
Is the latex used in Supernatural Paper® safe for those with a latex allergy?

Yes, Supernatural Paper® can still be used by those with a latex allergy. The type of latex used is Styrene-Butadiene Latex, which has several benefits over natural rubber, including that there are no allergens in SB Latex, while there are allergens in natural rubber. Supernatural Paper® is also OEKO-TEX Standard 100 Certified, guaranteeing that it does not contain harmful levels of more than 100 substances and has been recognized by Allergy Standards as a pathway to their asthma & allergy friendly certification.

Plus, SB Latex is more resistant to abrasions and ages better, as natural rubber softens over time, making it a better choice all around!
How long can you keep hot foods in our cooler bags?

For hot items, the fuller the bag is of warm/hot items, the longer the items will stay warm in the bag. Our insulated bags keep contents warm for approximately 30 minutes. As 'warm' is a subjective term, we recommend checking and possibly reheating your food at your destination so food is at your personally desired temperature. Please also keep the food safety temperature zone of your contents in mind when traveling with food.
How long can you keep cold foods in our cooler bags?

Our insulated bags do not require usage of ice or ice packs. However, we do recommend that you use them if your bag is not completely full of cold items. As a rule of thumb — the fuller the bag, the cooler it will keep your items for longer. There are other factors that come into play, such as whether or not your bag is sitting in the hot sun or in a hot car, that may affect the ability of the bag to keep items cool for an extended period of time. We recommend 'playing it safe' by filling your bag with as many cool/cold items as possible, keeping the bag tightly closed and out of the sun while you transport groceries from store to home. Dependent on these variable factors, our insulated bags may keep items temperature controlled for approximately three hours.
Can I put ice directly in cooler bags?

It is not recommended to put ice directly in cooler bags. While our coolers have a heat-sealed inner lining that is water resistant, we do not recommend putting strictly ice or ice cubes in our coolers as they are not meant to hold straight liquid. Instead, we recommend the use of reusable ice packs to keep the contents cool for extended periods of time. Alternatively, you could put ice in sealable reusable baggies to keep things cooler.
What is the insulation in insulated bags made out of?

The insulation is made of multiple layers: PEVA inner lining and PE foam insulation. PEVA (polyethylene vinyl acetate) is a non-chlorinated vinyl.
Where can I buy an Out of the Woods® bag?
Do you ever have sales or offer promo codes?
ORDERS
Can I order a bag over the phone?

Although we cannot accept orders over the phone, you can easily purchase our bags from one of our retail partners or through our own secure website.
Do you work with wholesale accounts?
BAG CARE
How do I care for my bag?

Each Out of the Woods® bags has an inner label detailing recommended care instructions. For insulated bags, hand wash inside and out with a mild detergent and warm water. Lay flat to dry in a well-ventilated area. Do not submerge in water. Do not machine wash, tumble dry, or dry clean. Our non-insulated bags can be machine washed on the gentle cycle using mild detergent. Lay flat to dry in a well-ventilated area. Do not place in the dryer or dry clean.

Can I use disinfectant wipes on Supernatural Paper®?

As long as your disinfectant wipes are free of bleach, they are safe to use on our Supernatural Paper® material. Wipes with bleach should not be used.

How are washable bags different from regular bags?

Bags or other fabric products that are washable have simply been manufactured in a way that allows for repeated washings and contact with mild soaps without losing color or durability. Washable bags generally offer more longevity and options for care and cleaning, and can become softer and more supple with more washings.

Why is it important to have reusable bags that are washable?

As the world shifts away from single use bags to reusable bags, it has become more and more important to be able to sanitize your bags. When using reusable bags in your daily life such as at the grocery store, the bag will most likely come in contact with many high-touch areas. The bag will also be subjected to cross contamination and the potential for leaky items, such as meat or produce bags. Using washable reusable bags can protect you from harmful germs and help you live a more sanitary life.